Whether you need a reminder that winter won't last forever, are celebrating the arrival of spring or looking to create a cool oasis from the summer's heat, greenery can inspire the décor for weddings and bridal showers year-round.
Set the tone for a lovely bridal shower celebration with beautiful invitations featuring a cascading greenery design, and delight the bride-to-be with a personalized guest book that will preserve the memory of this special day. You don't need to choose a single design – the cool greens will provide a cohesive look!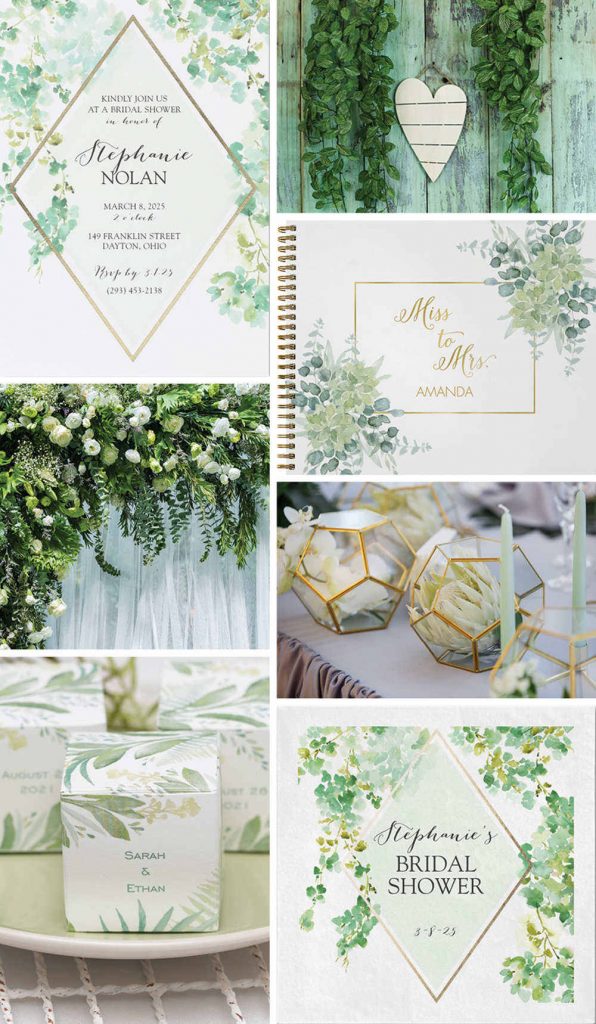 If you have a green thumb, your houseplants can be the springboard for a casual-cool boho wedding shower (and give you an excuse to treat yourself to that parlor palm you've had your eye on.) Pair ivy with weathered wood for a classic country look or go all out with formal arrangements from a local florist. You'll be pleasantly surprised at how inexpensive greenery bouquets are when compared to more traditional floral arrangements.
We also love the way greenery pairs with geometric metallic shapes for a thoroughly contemporary look. Trim gold hoops with boxwood or eucalyptus for beautiful hanging decorations or plant succulents in tiny geometric terrariums and scatter them on a table decorated with a greenery swag. When the party's over, you can offer them to your guests as favors!
Speaking of favors, if your guests are sitting down to eat, place a favor box containing a sweet treat at each setting. Before you assemble them, write "winner" on the bottom of a few boxes and use them to award door prizes. Or stack them by the door for guests to grab as they leave. It's a thoughtful gesture that will let your guests know how much you appreciate they were there to share the celebration.
Featured Items: Cascading Vines – Bridal Shower Invitation; Greenery Bridal Shower Guest Book; Greenery Favor Box – Personalized; Cascading Vines Napkin – Beverage