Earlier this summer there was a beautiful local wedding that we had the privilege to attend. We were so inspired by the use of space and décor that we just had to share it with you! The June weather was perfect for this outdoor ceremony by a pond under the cover of giant willow tree shade.
Toni, the bride, wanted a rustic wedding and was inspired by Pinterest – everything from burlap to lace, mason jars to cowboy boots and wooden signs to homemade food. With the help of her mother and sisters, they were able to make Toni's vision a reality for her big day.
Upon arrival at the ceremony, guests were greeted with a chalkboard sign requesting them to "unplug" to limit distraction from Toni and Nate's momentous occasion. As guests took their seats they received a Rustic Charm – Program detailing what was to come. To complete the look, they had a whiskey barrel for an alter to hold the sand ceremony.
As Toni looked down the aisle with her groom in sight, she was alighted with joy that her dream wedding was a reality.  She was then able to admire her handcrafted mason jars wrapped in burlap and lace, hanging from rows of white folding chairs filled with guests.  Toni's bouquet, made up of babies breathe, wild flowers and variety of greens, matched the arrangement that flourished out of the mason jars.
After the ceremony, the newlyweds and their guests entered a small cottage where Toni's rustic wedding continued. White lights wrapped in tulle and lace hung from the ceiling. Behind the head table sat twigs wrapped in lights with a Mr & Mrs burlap sign.
Each guest was welcomed with a personalized place card attached to a tiny, steel cowbell – perfect for ringing when they thought it was the couple's time to kiss! To help keep costs down, the mason jars from the ceremony were also atop of wood slices with burlap and green fabric as table runners.
The meal was sure to please at the grooms' request. Served on a subtle, white textured plate were portions of chicken or steak, baby red potatoes, and mixed vegetables.
And the oh so delicious cake! It was simple, decorated with texture and covered in white butter cream frosting. Nested on top was a letter D wrapped in twine featuring a burlap flower representing their last name made with love by Toni herself adding the perfect amount of decoration.
Don't forget the dress! Full lace with a small train perfect for matching to the Rustic Battenburg Lace Invitation guests received earlier. Completing the look with a short veil and cowboy boots.
We asked Toni what her favorite part of her day was. Without hesitation, she said it was seeing her groom for the first time. The photographer captured their "first look" moment perfect.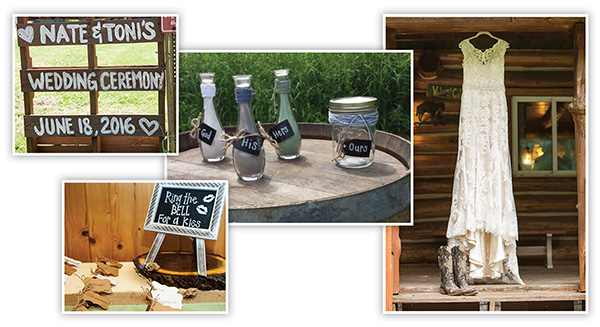 Photos: Portraits by Bobby McFall