Tips for matching your wedding theme to your personality
You could get married in an urban loft complete with a sophisticated color palette of blacks, whites and accents of gold, or you could tie the knot in a barn under a canopy of whimsical lights and natural decor. Your wedding style is completely up to you. The best way to go about selecting a style or theme is to think about your personality. What do you like? What do you dislike? From vineyards and beaches to churches and hotel ballrooms, whatever style wedding you choose can help narrow down your choices when it comes to wedding invitations, table runners, flowers and clothing. To find a style for your big day that really reflects you and your future spouse, keep these tips to keep in mind:
Brainstorm
Get together with your fiancé and take the time to write down a few words that you feel defines you as a couple. Think about what you both enjoy doing together, like traveling, going to baseball games or spending time outdoors. All of these things can be woven into your big day to really personalize your nuptials and make them your own. For example, if you both are into sports, your reception tables could be organized into different teams. If travel is more your thing, include pictures of where you both have been in your reception decor.
Think about the season
One important aspect of planning that may help determine your overall wedding style is the season in which you want to tie the knot. Are you more of an autumn bride who loves the deep reds, oranges and golds that come during that time of year? Or maybe you would like to tie the knot under the summer sun with warm sand beneath your toes. Pick out the perfect season for you and your other half, and go from there.
What are you pinning?
If you're a bride-to-be and you're not on Pinterest, you might want to think about signing up! Pinterest is a great way to find your wedding style. Look through all of the wedding pins you've liked or pinned onto your own board. You may notice that you've been drawn to certain styles, whether it's modern, traditional, beach or rustic. Use Pinterest to get advice from experts in the industry and to be inspired by other future brides.
Talk to your loved ones
It's not always easy to figure out what defines you as a couple, but sitting down with your friends and family may be able to give you some good ideas. After all, they sometimes know you better than you know yourself! Grab some coffee with your loved one for some bonding time that will leave you with a few wedding ideas that fit right in with the personalities of you and your fiancé.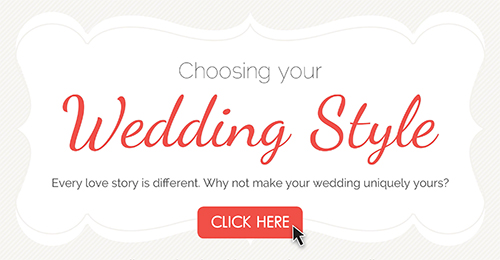 Follow our handy guide to match your personality to the perfect wedding style for you!
Hint: Once our guide has led you to the perfect style (e.g. Rustic, Modern, Elegant, etc.), click on the appropriate icon to view handfuls of product that match your personality.