We're excited to showcase a sampling of beautiful, exclusive and luxurious clear acrylic wedding invitations from our newest collection! Each one is a standout your guests will love receiving and are sure to keep. Check out the entire Clear Collection for more great designs, or browse our lookbook at issuu.com.
All of Carlson Craft's clear acrylic invitations are UV printing (a process inspired by the UV lights used for drying gel nail polish!) on quality 1/8" acrylic. The technique is new, but with generations of printing experience behind us, we have the expertise you can trust to create invitations that are sure to impress.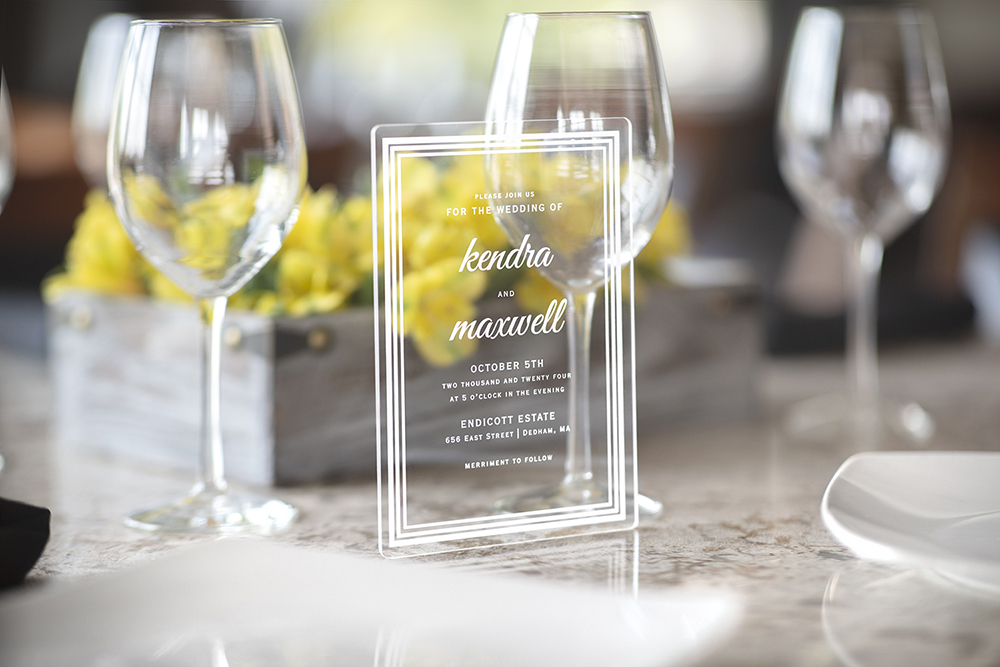 A clean and modern take on a classic design, the Mixed Border Invitation is UV printed in white ink for an impressive and elegant presentation, perfect for couples who require a more formal design but are looking for something memorable and unique.
Less formal but no less impressive is our Spring Floral Invitation. The hot new printing technique combines with on-trend design, creating an eye-catching invite perfect for garden weddings or couples who want to bring a touch of the outdoors to their wedding.
We've created matching reception and response cards in both acrylic and paper, so you have the option of creating your entire wedding invitation suite in acrylic or combining acrylic invitations with coordinated paper pieces.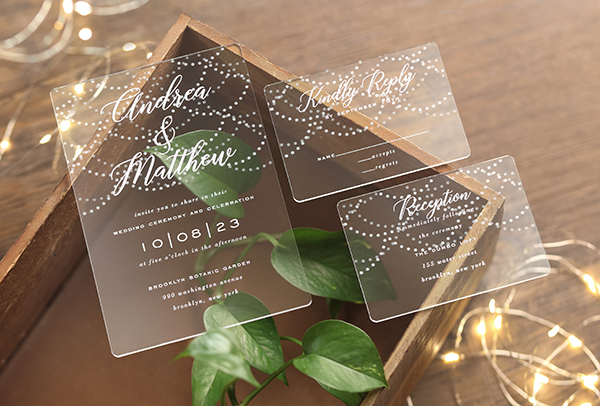 The casual and contemporary Hanging Lights Invitation features another white-on-clear design. A garland creates a canopy for a relaxed bohemian vibe that blends seamlessly with the sophisticated look of acrylics.
The cost of mailing these beauties is something you'll need to consider when planning your wedding. Inner and outer envelopes are included in the price of the invitation, but since acrylic cards don't bend, they don't qualify as standard mail, so you'll be paying a premium for postage. It may even be worthwhile to have the stamps hand canceled, another additional cost.
You can carry the clean and modern look throughout your wedding with our collection of acrylic signs. They're also a great way to incorporate acrylics into your wedding even if you decide acrylic invites aren't for you. Choose from a selection of signs that will welcome your guests and guide them through your big day in style.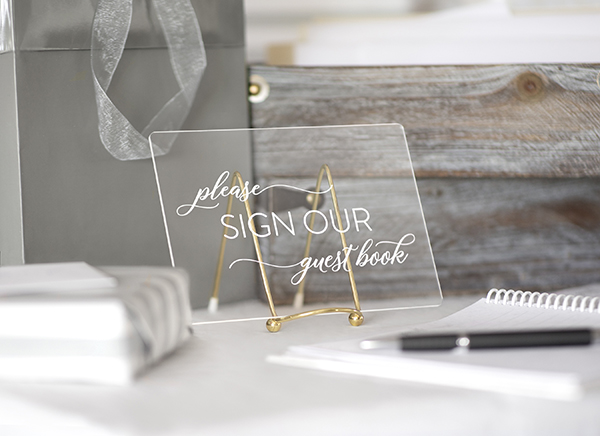 Look no further for wedding invitations that will stand out from the crowd and create a memorable first impression. Carlson Craft's new line of clear acrylic wedding invitations has the wow factor you've been searching for! Stay tuned next week for a deeper dive into our acrylic signs and decorations.
Featured Designs: Mixed Border Invitation, Spring Floral Invitation, Hanging Lights Invitation,Please Sign our Guest Book Acrylic Sign