Anyone who has been planning a wedding within the last two years has probably noticed the clear trend! From acrylic wedding invitations to acrylic signs, the fascination with clear materials that offer a pristine look is going strong, but…
acrylics aren't just for weddings!
Acrylic signs are fantastic for all kinds of celebrations and can even be used for business purposes in some cases. Here's a fun list of ideas about why and how to use acrylic signs and clear party decorations at your next celebration.
1. So unique, so pretty!
Acrylics are crystal clear, no really. You will be amazed the first time you order an acrylic item. The printing is crisp and the material gives the illusion of glass without the fear of breaking.
2. On-trend for a reason.
Acrylic invitations and signs are on trend because they're beautiful, of course, but also because they bring a sense of minimalist elegance to any celebration. Weddings are the perfect example but this simple yet stunning look works for a variety of special occasions.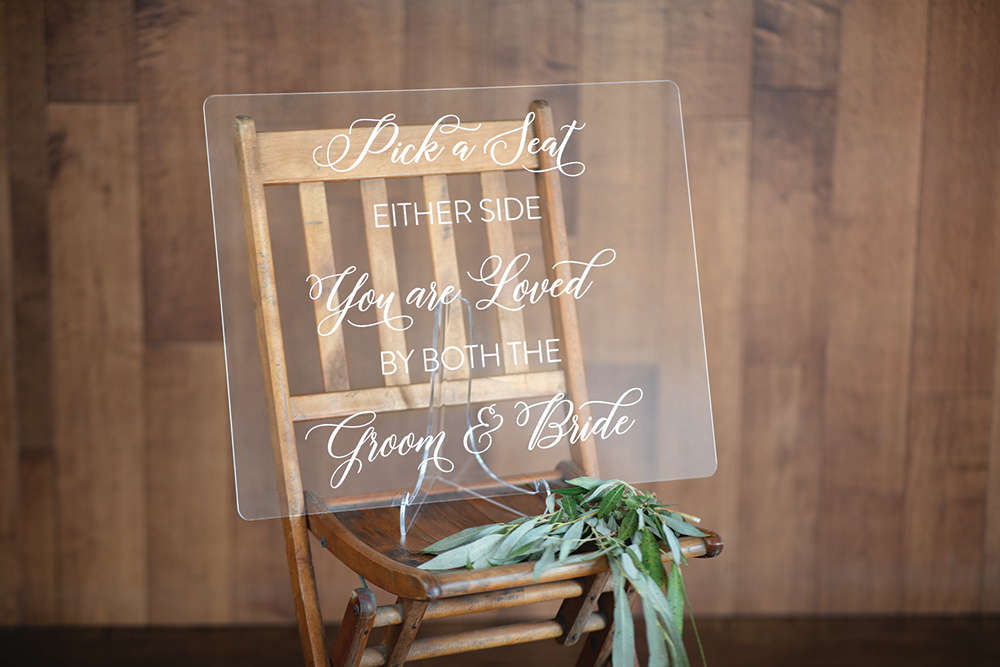 3. Get personal with acrylics.
We offer acrylic signs you can personalize specifically for the occasion. Personalized touches are never a bad choice when celebrating a special milestone or event. Personalization paired with the beauty of acrylic is hands-down one of our favorite things right now.
4. Oh so welcoming!
Acrylic welcome signs are amazing. You can order them blank or personalized through our Clear Collection and they look fabulous at any style of party or even in shops, boutiques and small businesses.
5. Get their attention…
Acrylic décor and accents are also available for smaller touches throughout a celebration. The Please Sign Our Guest Book sign and Cards and Gifts sign are both great examples of ways to dress up smaller tables or areas. Or consider personalizing acrylic wedding invitations as menu cards or decorative table centerpieces.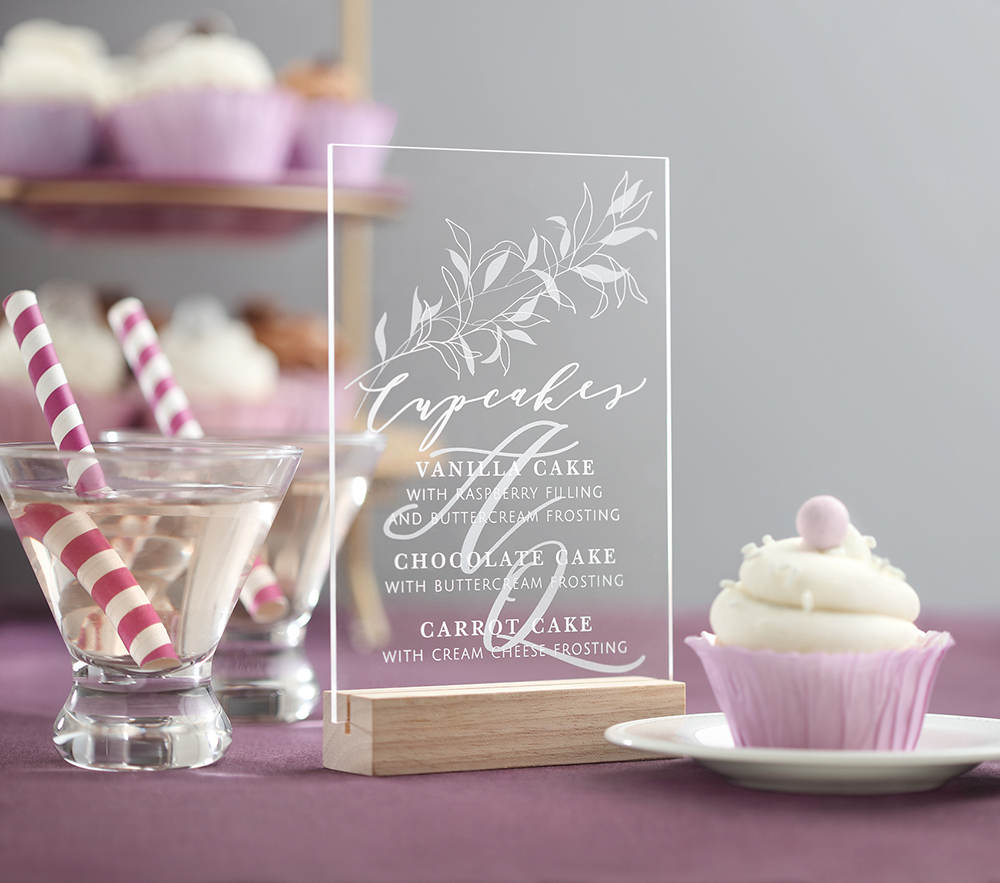 6. Get creative!
Acrylic signs can be decorated in a variety of ways. We often show them as signature boards but you can really get creative by painting them with acrylic paint, using decorative stands for display or placing them against gorgeous backdrops like rustic wood paneling or a swath of fabric with twinkling lights.
7. Simply sign it!
As mentioned above, we often show our acrylic signs as signature boards, and what's so fun about this is that it's something easy for party guests to do and it creates a beautiful keepsake to be used as home decoration after the party.
8. Count on it!
Acrylic numbers are a really fun choice for all kinds of parties, including milestone birthdays, anniversaries and even class reunions. Our customers love to use them as unique signature boards for their graduating seniors.
9. Lovely letters.
Similar to the acrylic numbers above, letters can be used to jazz up the party decorations. Great for adding initials to baby showers, monograms to weddings, or for graduates who lettered in sports or other activities.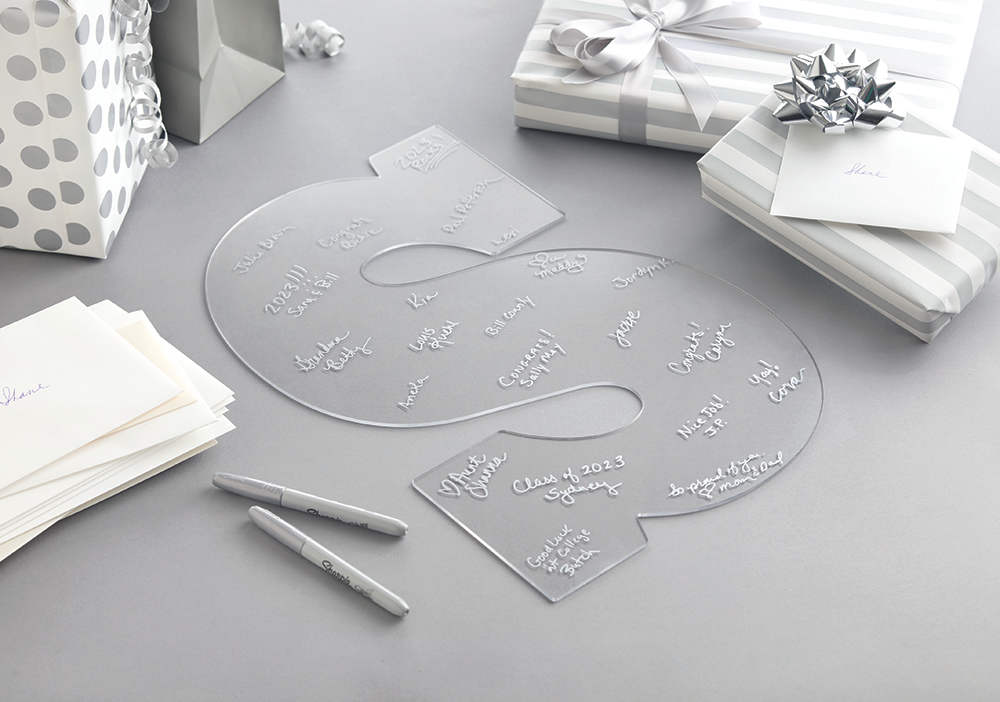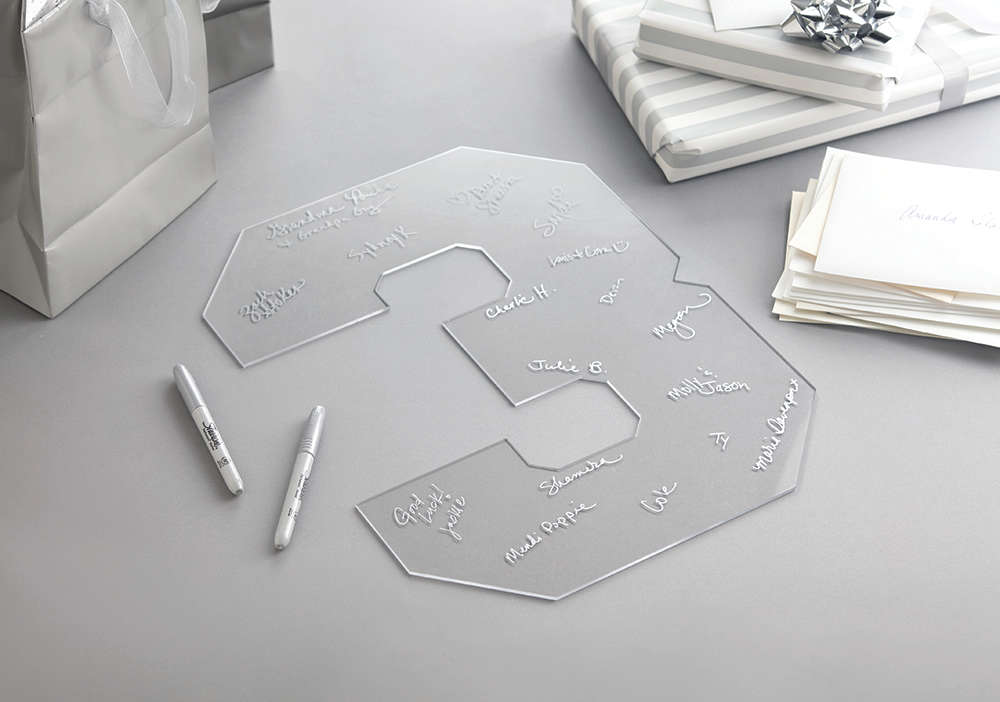 10. Acrylic signs are durable and can be repurposed year after year. Say your extended family plans a reunion every 5 years. You can personalize a welcome sign to say "Welcome to the Anderson Family Reunion" and it will become a new tradition everyone can enjoy.
11. Down to business
Acrylic signs are wonderful for party decorations but they can also look amazing in stores and boutiques. The Sign Our Guest Book sign would look incredibly inviting at Bed and Breakfasts or tourist locations.