You got engaged over the Holidays? Congratulations! Take a moment to bask in the excitement of your new status, then share the good news and brighten up those cold winter days by throwing an engagement party for close friends and family.
There's only one rule you need to know when throwing an engagement party: only invite people you plan to invite to the wedding. You don't need to tie the theme of an engagement party to your wedding theme, so anything goes. Is your fiancé dropping hints about a Star Wars-themed wedding reception, and you're not feeling it? Compromise with a Star Wars-themed engagement party!
Here are some ideas to get your creativity flowing!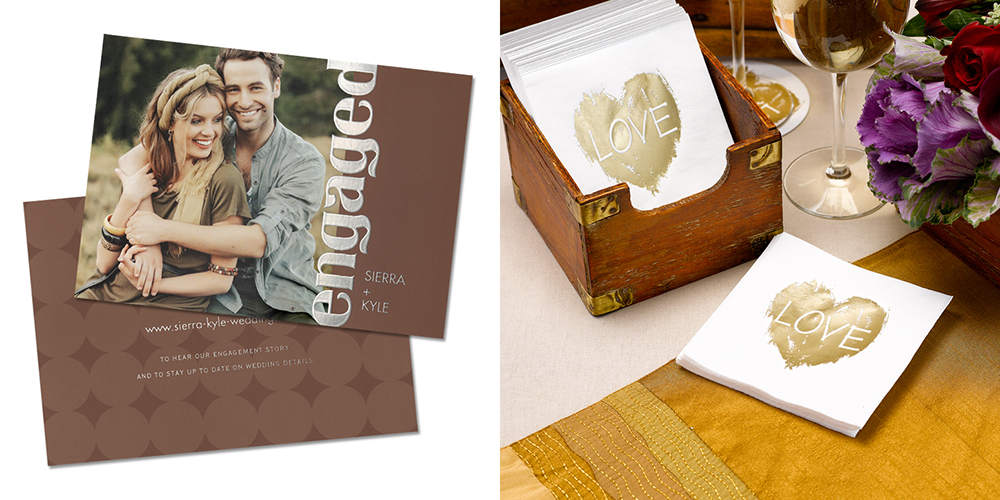 Engagement announcements often do double duty as engagement party invitations, so they're designed to be flexible. The editable text lets you customize the invite to suit your needs, so whether you're throwing a party or just want to send a photo card to share the big news, you're covered.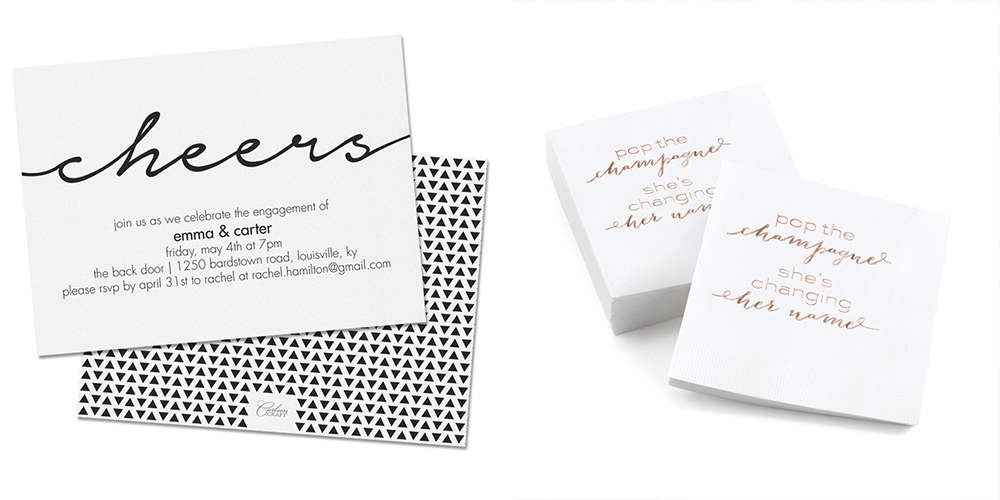 What goes with a diamond ring better than champagne? Champagne is perfect in any season, so pop the bubbly and pass around some upscale appetizers for a stylish and swanky soirée. You can scale the party to suit any budget and guest lists of all sizes because it works just as well if you rent a hall or host the party in your home. Add some fun pre-printed napkins or go all out and rent some fancy linen ones. If it's in the budget, hire a catering staff so you can spend the entire evening celebrating with your guests. Or keep things simple by serving champagne and cake.
If you're hosting a small gathering of friends, play DJ. If you have the space, go all out, hire one, and dance the night away. Invite your guests to select their favorite songs for your wedding playlist. You can pass out sign-up sheets or provide a QR code so they can add their choices directly to your wedding website.
Lean into the season. Plan a winter outing, like a winter hike or an afternoon of skating or skiing, followed by a pot of chili or stew at your place. Or rent a chalet or cozy cabin and hold the party there. Looking for something seasonal but a little less athletic? How about hosting a sleigh ride or a party around a bonfire? Or plan a party around one of the winter holidays. Having the party on or around Valentine's Day probably isn't the best choice, but there's always room for a Mardi Gras or St. Patrick's Day themed party. If you're over winter, a casino-themed party or tropical getaway is the perfect way to celebrate on a cold winter evening.
Share the excitement by throwing a party to surprise your guests with the good news! Make the party an exciting event your friends won't want to miss! Invite guests to a casino night with a theme of "Lucky in Love" or "It's in the Cards!" An après ski party could be themed "Snow in Love." Have fun with it!
Featured Items: Truly Simple Engagement Announcement; Brush of Love – Napkins; Love Affirmation Engagement Announcement; Krafted Blossoms Napkin – Beverage; Modern Cheers – Party Invitation; Pop the Champagne – Napkins