1. Moody Color Palettes
If you want all-out drama, the trend toward moody color pallets may be just what you're looking for. Early in the season, bright hues and jewel tones bridge the gap between summer and fall. For late autumn weddings, think deep shades of burnt orange, fiery reds, and vibrant yellows to echo the changing colors of the season. Above, the deep purple of our Fall Floral Invitation pairs well with deeper, more luxurious hues of a traditional fall palette of orange, pink, ivory and brown.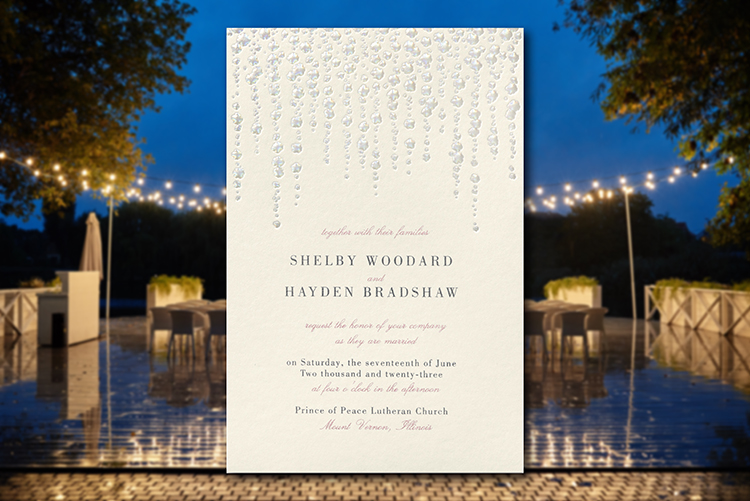 2. Outdoor Events
Do you dream of celebrating your wedding under the stars? Make it happen with strings of softly glowing lights. Whether you choose to highlight the head table or create a canopy of light, the look is all-out romantic and can enhance any mood, from urban elegance to country to boho-chick. Give your guests a hint of what to expect without giving anything away with pearl embossing reminiscent of strings of lights with the Glistening String Lights Invitation.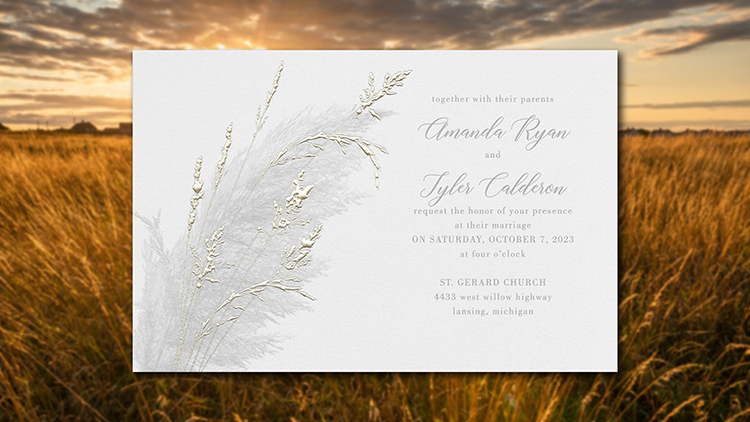 3. Dried Flowers
Using dried flowers and grasses for bouquets and arrangements is on-trend and eco-friendly. Paired with strings of lights, they're perfect just as they are for laidback, outdoor weddings with bohemian, country or beachy themes. Gold foil accents add glamour to the Prairie Long Grass Invitation shown above. Love the sculptural look of dried flowers but want a bit more drama? Lighting can be used to cast fantastical shadows against a wall.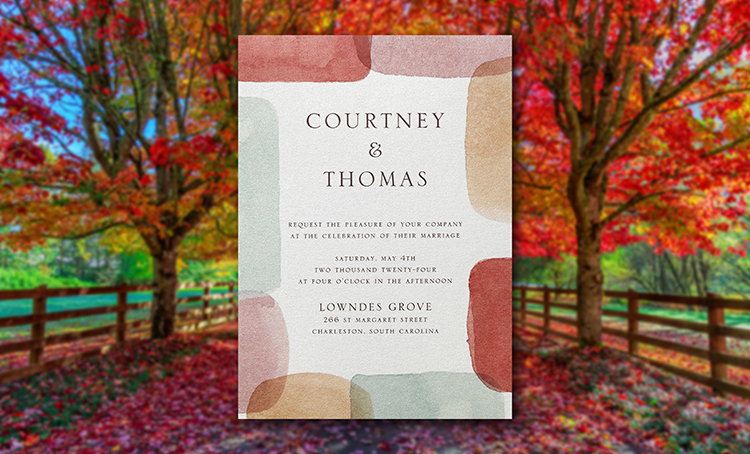 4. Retro Color Palettes
Fall isn't just a season: it's an attitude. Retro-cool design meets a saturated color palette on the Earthy Shapes Invitation so you can take inspiration from autumn while creating a wedding and reception that's uniquely yours. Here the busy graphics of '60s textile designs are simplified, and the colors muted on these fall wedding invitations for a re-imagined and thoroughly contemporary look.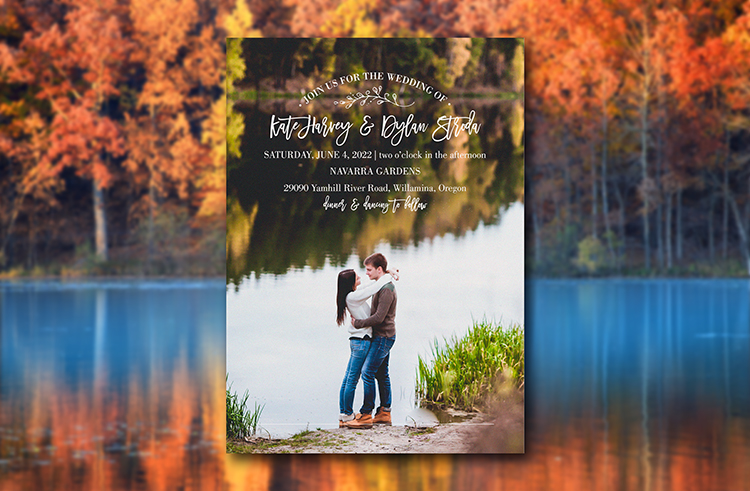 5. Picturesque Weddings
Photo invites allow you to step away from the traditional and use your wedding invitation to tell your love story your way. The natural world becomes your backdrop when photo wedding invitations, such as the Picturesque Elegance Invitation shown above, give you the entire front of the card to showcase a favorite snapshot taken in a location meaningful to you as a couple. Tip: If you select the invite before your photoshoot, share it with your photographer so they can frame the photo to complement the text.
According to WeddingWire, September and October are currently the months most couples choose for their wedding. Maybe it's the cooler weather or the inspiring colors. Whatever the reason, whatever your style, there's plenty of inspiration to be found in Carlson Craft's selection of Invitation Suites and Affordable Ensembles.
Featured Items: Fall Floral – Invitation, Glistening String Lights Invitation, Prairie Long Grass Invitation, Earthy Shapes Invitation, Picturesque Elegance Invitation