We were like, "Oh, how cute – sparkly string snowballs! Let's make some!"
An hour later, we were like, "OMG, whose idea was this?" And we all glared at our copywriter, who came across these instructions from View Along the Way and thought they would be fun to try, and who was like, "What? You guys are the artsy ones."
People, we have our first Creative Crush non-crushed-it. Well, we kinda crushed it. We got some sorta sparkly string snowballs. But they're more the kind we'd give as white elephant gifts than hang on our tree.
Here's what the instructions called for, and what we'll do differently next time.
• Water balloons: The teeny balloons are really hard to blow up perfectly round. We might try larger balloons that aren't fully blown up, or just make larger snowballs.
• Tacky glue and water: We didn't get our mix to the right consistency. First we didn't use enough glue to keep the yarn firm, then we used too much glue and it was really sticky.
• Plain white string: Our copywriter pointed out that we used yarn. Not string. So, next time, we will READ THE DIRECTIONS. (Copywriter's emphasis.)
• Glitter: We used super-fine iridescent glitter. Next time, we'll use coarser glitter so it shows up better.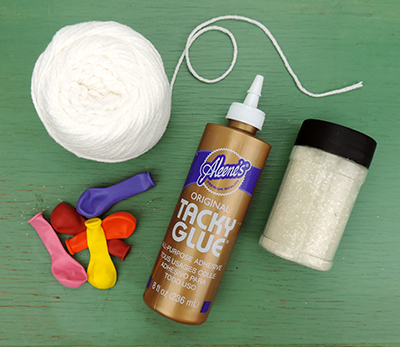 Have you tried making these? Share your tips with us!