How would you like to order your wedding invitations from an award-winning company? We just found out we've been nominated for a Louie Award in the Letterpress category! It's kind of a big deal. (Sort of like being nominated for an Oscar. Only for stationery design.) It means your peers see you as the best of the best.
Officially known as the International Greeting Card Awards Competition, The Louie Awards are sponsored by an organization called the Greeting Card Association. You can learn more about them and all of this year's finalists here www.greetingcard.org and here www.greetingcard.org/louie-awards/.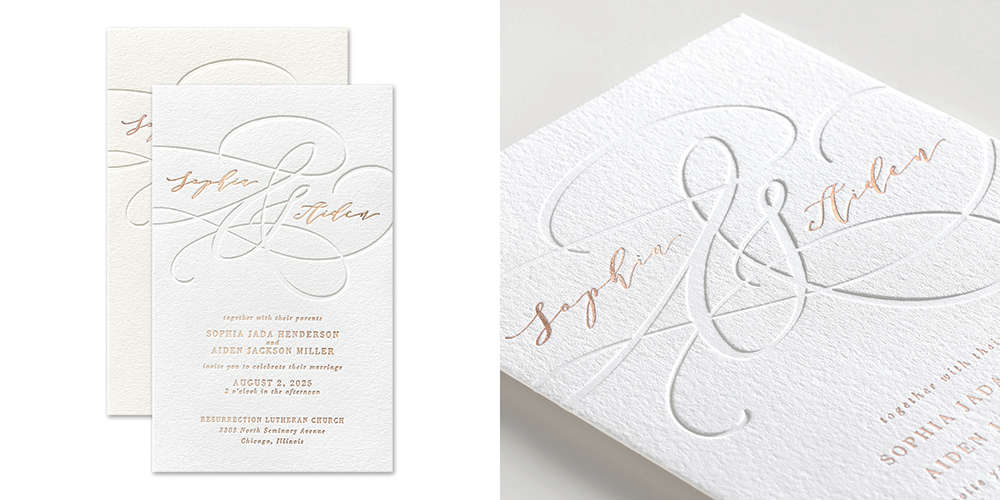 We've been nominated and awarded many Louies over the years, and it's always a thrill. We are so proud of our product development and product design teams for all their hard work bringing gorgeous stationery like this to life. This year we're extra excited because letterpress is a premium category, and the invitation features a second specialty print process, foil stamping. It's a combination we're proud to offer, because few printers do and even fewer do it as well as we do.
The timeless beauty of letterpress leaves an impression on more than the paper. Guests will be dazzled with the luxurious, heavyweight paper featuring the couple's names stamped in rose gold foil and embraced in the curves of a graceful letterpress ampersand. The ampersand can be debossed, as shown above, to mimic the popular look of blind embossing or printed in your choice of letterpress ink.
View the Love Embraced Wedding Invitation online. The 33rd annual Louie Awards winners will be announced on Wednesday, April 27th. We can hardly wait!