With their enchanting curves and distinctive design, arch-shaped wedding invitations began captivating couples a few years ago. Their popularity is still growing, and they remain a fresh choice for brides who seek wedding stationery with a distinctive look that retains a touch of elegance and sophistication. Let's take a look at the significance and symbolism of this hot trend and how it can reflect the unique style and personality of bridal couples everywhere.
Minimalist couples will love arched shapes with simple, text-based designs. So will couples who appreciate the power of the printed word. The arch itself, with its inherent strength and stability, symbolizes the foundations of a loving partnership.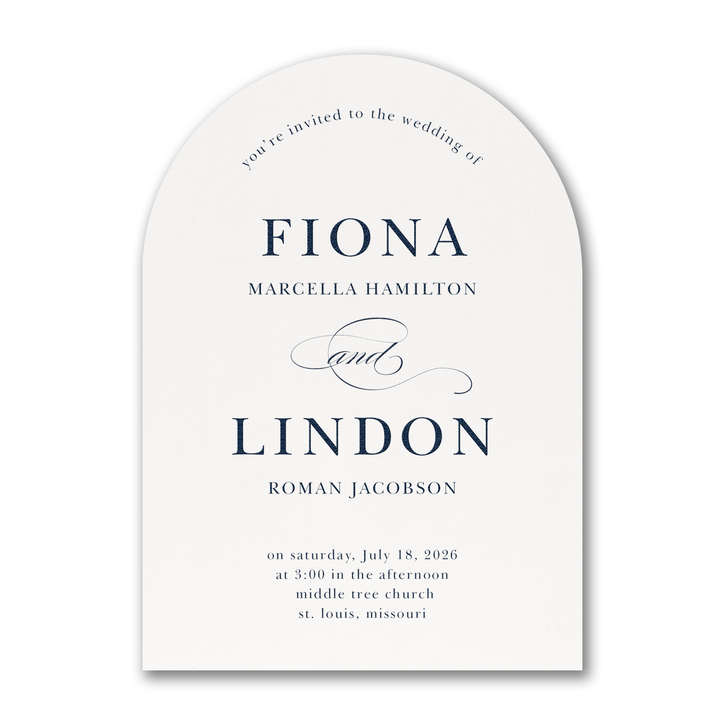 Subtle details like thermography or a deckle edge add interest without overpowering the wording.
Modern romantics who appreciate a touch of glamour will love arch shaped invitations featuring the classic look of embossing. An intricate filigree design expertly embossed onto high-quality paper will appeal to couples looking for a regal look.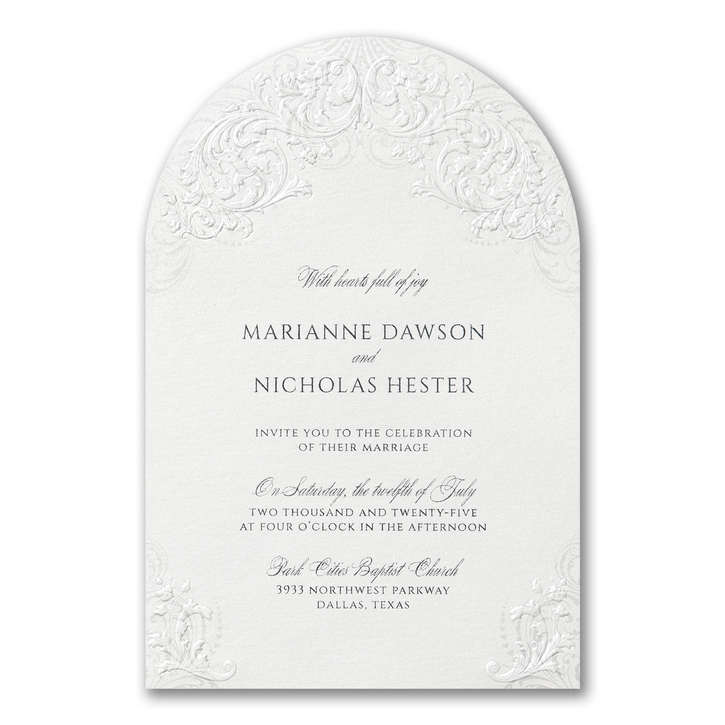 Couples that want to embrace traditional elements but want a touch of opulence will love the glamorous shine of foil embossing.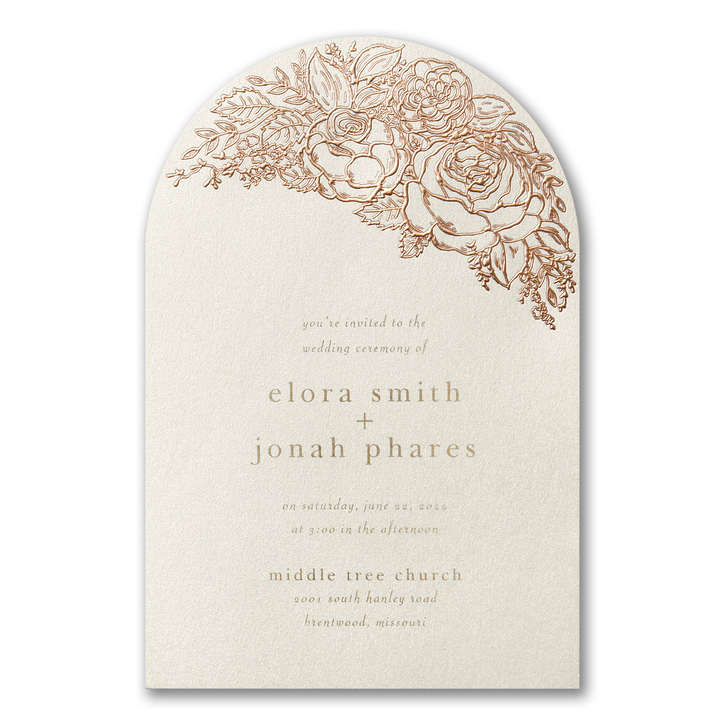 Artistic and creative couples will be drawn to the visually striking combination of the arched invitation shape with the added flair of pockets and backers. Pocket wedding invitations will have special appeal for couples who need to include additional inserts, like personalized notes, accommodation information or maps.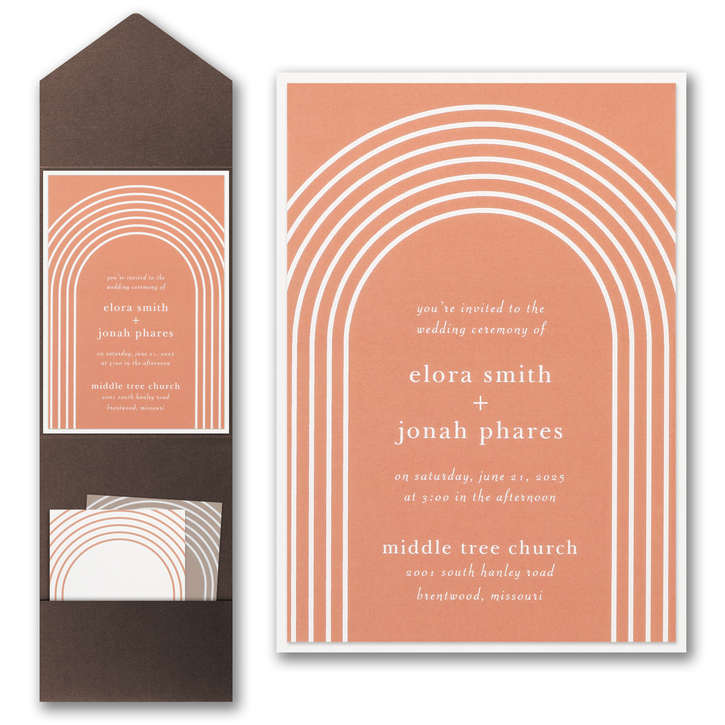 Backers are perfect for couples who want to customize every element of their wedding stationery while maximizing the architectural appeal of an arched shape.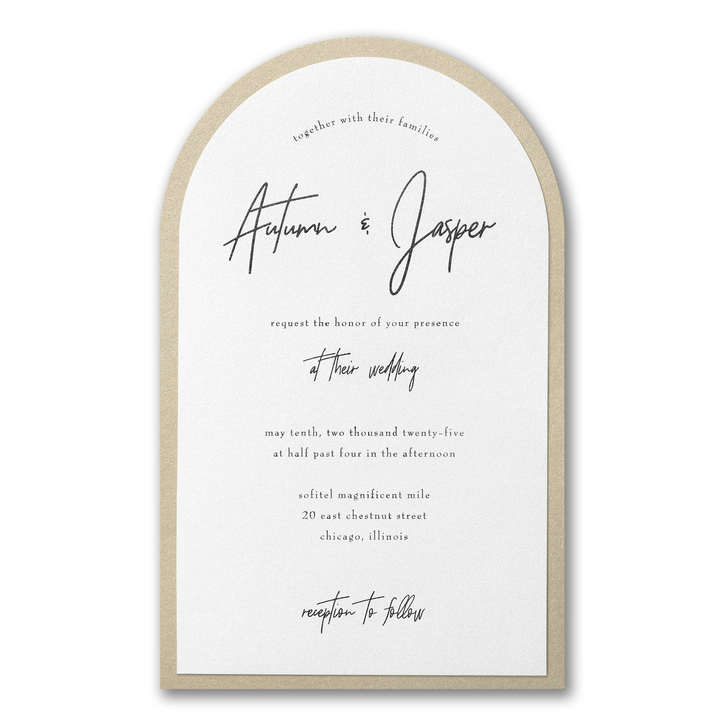 Trendsetting couples will appreciate arch shaped wedding invitations that feature unique and innovative design elements. Whether it's geometric minimalism, a traditional print process used in a unique way or some other unexpected element, they're on the lookout for clean lines, bold shapes and contemporary style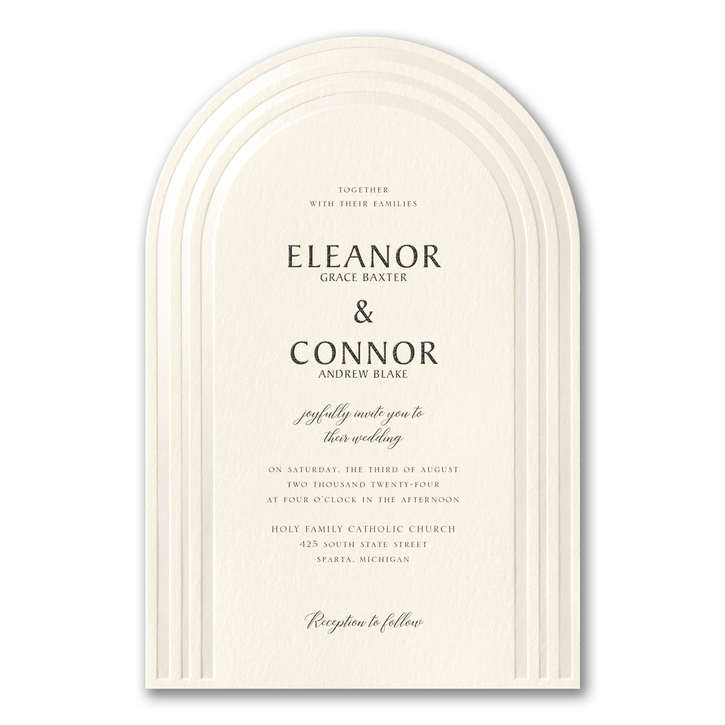 Don't overlook Seal 'n Sends when looking for contemporary invitations. When open, the choice shown above echoes the trendy arch shape and features a pearl-foil floral design embossed with the same expertise as our invitation suites.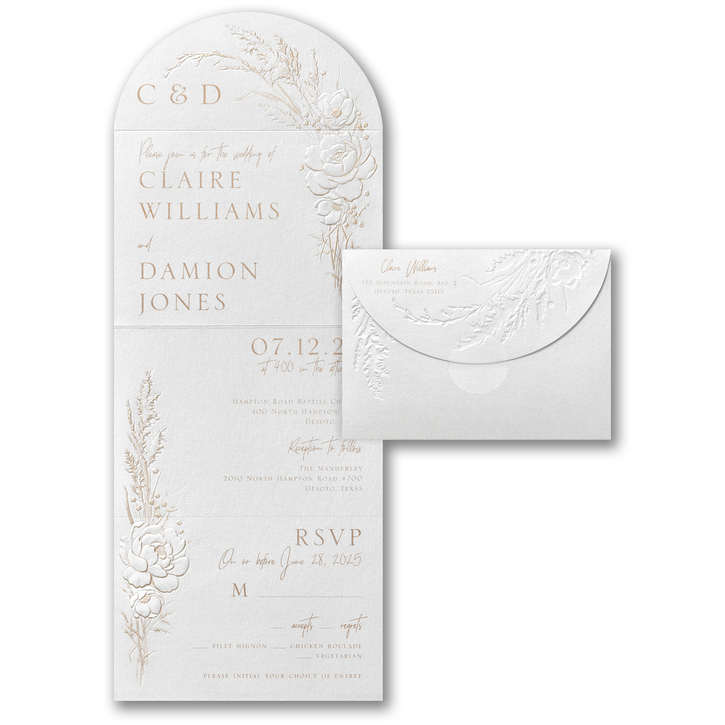 We hope you've enjoyed this exploration of arch shaped invitations, where creativity, symbolism, and modern aesthetics seamlessly intertwine to make a lasting impression.
Featured Items: Inviting Arrangement Invitation, Arched Feather Deckle Invitation, Arching Filigree Invitation, Floral Arch Invitation, Arched Lines Invitation with Pocket and Backer, Charming Arch Invitation – Gold Shimmer Backer, Modern Arch Invitation, Boho Bouquet Seal 'n Send