Tied up in knots about what to do for your Dad on Father's Day? Hang on – we've got an easy way you to make him feel special.
It's our free printable "Best Dad Ever" banner, with each piece in the shape of a tie.
Here's how to do it:
• "Best Dad Ever" Father's Day banner printable
• print the banner pieces on card stock
• cut out into tie shapes
• punch with holes at the top
• thread onto cord or twine or ribbon
• hang the banner right where he'll see it (over the coffee pot, inside his car, on the boat, on the garage door, above the dinner table – you know your dad best!)
Time? Less than a half hour.
Cost? The printables are free, you'll just need the card stock and the cord, twine or ribbon for hanging.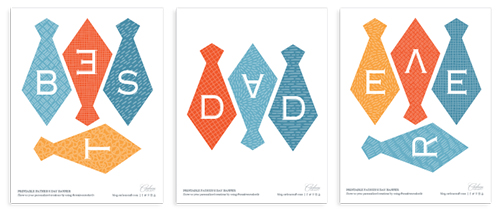 Still need gift ideas for dad? Check out these personalized gifts.