Imagine exchanging your vows in a picturesque countryside setting, surrounded by lush gardens, dainty florals and a touch of vintage elegance. Now add a little whimsy, and you have a cottage core wedding. Maybe you've heard the term but aren't sure what it's all about. It's sort of bohemian without the flashy designer touches. At its heart, it's a nostalgic style celebrating a slower pace of life by blending prairie elements with soft textures, light colors and subtle accents.
Begin with an invitation featuring florals with soft hues inspired by nature. Pastel shades of blush, sage green, lavender and dusty blue work beautifully with a soft floral design and pair well with neutral tones like ivory, cream and taupe. Add a romantic font and subtle foil accents for a modern touch, and you'll have an invitation that will perfectly set the tone for your big day. A textured paper or whimsical extras like pressed flowers, wax seals, translucent wraps and postage stamps with a vintage look will add to the cottage core aesthetic.

The groom should avoid basic black when planning his wardrobe and choose a light gray or blue base color. If he wants to make a statement, he could wear a pastel blue or emerald green suit or go casual with a dress shirt and suspenders. Of course, whatever he decides will be determined by the bridal gown! Imagine lacy, romantic and lighter than air. Accessorize with flower crowns, ribbons and handmade details, like an embroidered handkerchief or a wildflower bouquet wrapped in twine.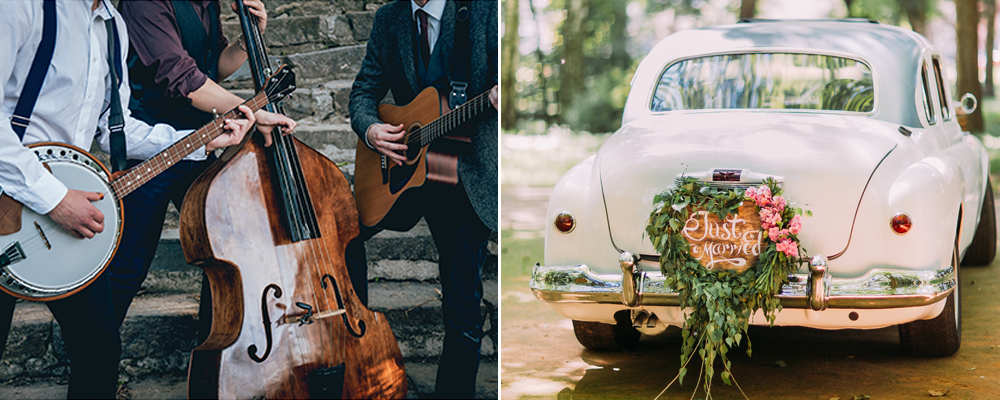 A cottage core wedding theme is about the celebration of the simple pleasures of nature. Welcome guests to the wedding and reception with nostalgic signs. At the reception, pair lush potted ferns with pampas grass to create the look of a fairy forest. Taper candles pair beautifully with mismatched vases filled with fresh-cut flowers that look like they came from your garden: sunflowers, zinnias, cosmos, bachelor buttons (you might know these as cornflowers), baby's breath, daisies and sweet peas. Other favorites, like peonies, can create a soft romantic look.
Entertain your guests with a folk band or string quartet while they play lawn games like croquet and bocce ball. Organize a sack race for some competitive fun. Later in the evening, a professional storyteller can tell tall tales around a bonfire as guests roast marshmallows and make s'mores. Let your imagination run wild. By embracing the magic of cottage core, your wedding can be a celebration of love, a retreat from the ordinary and a day spent enjoying the company of friends and loved ones in an atmosphere of timeless romance.