Life Should be Celebrated!
Carlson Craft recently had the pleasure of exhibiting at the National Stationery Show in New York City, and we couldn't be more excited and encouraged by the turnout and successful time we had! The atmosphere was filled with lots of buzz surrounding our new products, live product demonstrations, video demonstrations, and the new technology of our Wedding Pics app, which we'll be launching soon. Sharing the energy with the individuals we engaged with was absolutely amazing! Watch this short video to experience the buzz!
New Look + New Location
Our booth was swarming with traffic this year thanks in part to our new look. Our goal was to spotlight specific products from the albums, rather than the albums in general. We definitely achieved our goal; the booth looked great, and we received numerous compliments. We're pretty sure our new location also played a part in the increased traffic flow… we were located right inside the main entrance!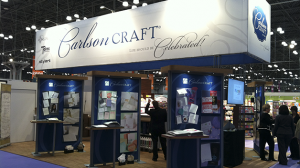 Product Demonstrations
This year we presented "Wow! It's in the Details" product demonstrations for our booth visitors. These very successful presentations not only featured new product, they also gave viewers ideas on how to bring together items from across our product lines to create beautifully coordinated celebrations. Seeing and realizing just how much attendees appreciated this "hands on" approach, we were inspired and added an extra session to our itinerary. We definitely felt grateful and encouraged, as the attendees embraced this information.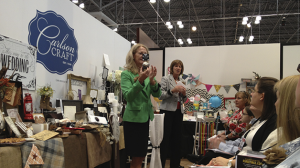 Look Book
To additionally support our product demonstrations, we presented our NSS Look Book. This book showcases a variety of themes that are trending right now – from Rustic to the Roaring '20s. We received a lot of compliments on the Look Book; both the appearance and the content were admired. Having this available empowers our dealers as they work with their brides.
New Technology
Attendees were also introduced to our Wedding Pics app to be launched soon. In partnership with Lifepics, this app essentially allows an individual to create a space to upload and store photos from their wedding. Along with one's personal photos, friends and family may also upload photos they've taken.
Online Stores
Those who stopped by our booth to say hello and get additional information about our business offered nothing but positive feedback regarding our new Carlson Craft Online Store. The Online Store is already loaded with products for celebrating every special occasion, with new and exciting products being added all the time!
And the Winner Is…
Perhaps the ultimate highlight of our trip to the National Stationery Show this year was the award we were given. Carlson Craft won the Best New Product award for our Rustic Touch wedding invitation!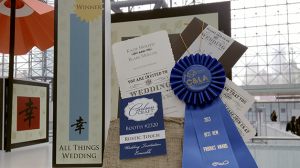 Overall, this show proved a new level of success that continues to keep Carlson Craft a leader in this industry.