Where do you start when choosing a photo holiday card? Do you pick the design you think looks best with your photo, or do you find an inspiring design and sort through your photos and choose one to fit the mood of the card? Sometimes it's obvious. Sometimes it's a struggle. But it's always good to have options. So without further ado, here are our top five options of 2022.
Foil Stamping or Enhanced Raised Foil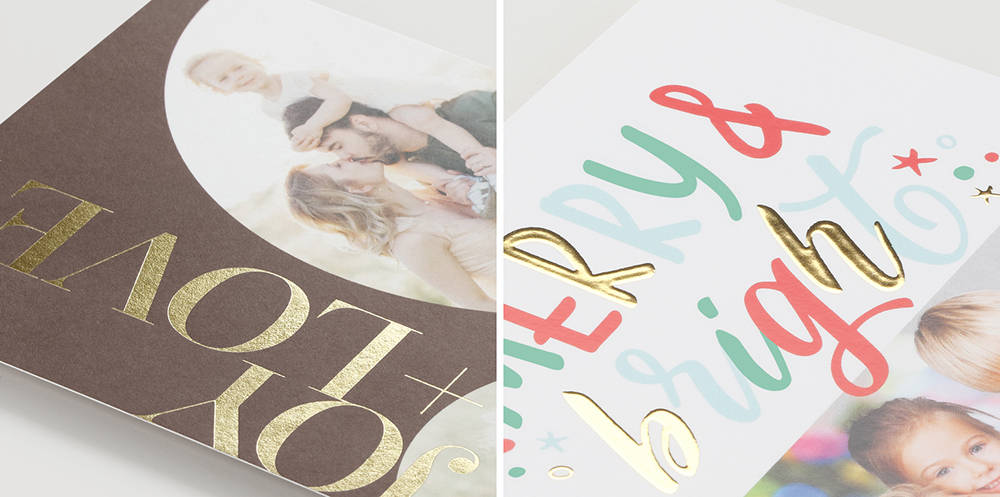 We love the glamorous look foil brings to holiday cards, but we can't decide which we love more, the sleek look of traditional foil stamping or the textured look of enhanced raised foil. The close-ups above show off the flat, satin-like finish of foil stamping and how enhanced foil rises off the page, with a textured look that seems painted onto the card. Another feature of enhanced foil is that we can apply it to both sides of the card. It's a feature we've taken full advantage of on select holiday designs.
Are you missing from your holiday cards?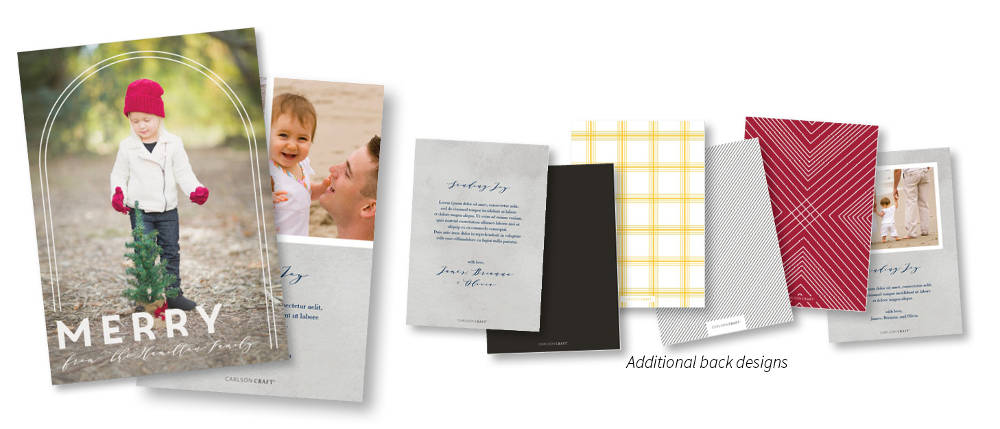 While everyone loves seeing photos of the kiddos – or your fur babies – they want pictures of you too! If you're not in the photo you've chosen for the front of the card, then a design with a back option is perfect for you. Depending on the card, you can add up to four photos to the back, including layouts with room for an extended message—just in case you have more to say than "Happy Holidays." But if your photo and caption say it all, you can add a pattern in the color of your choice.
Looking for something completely different?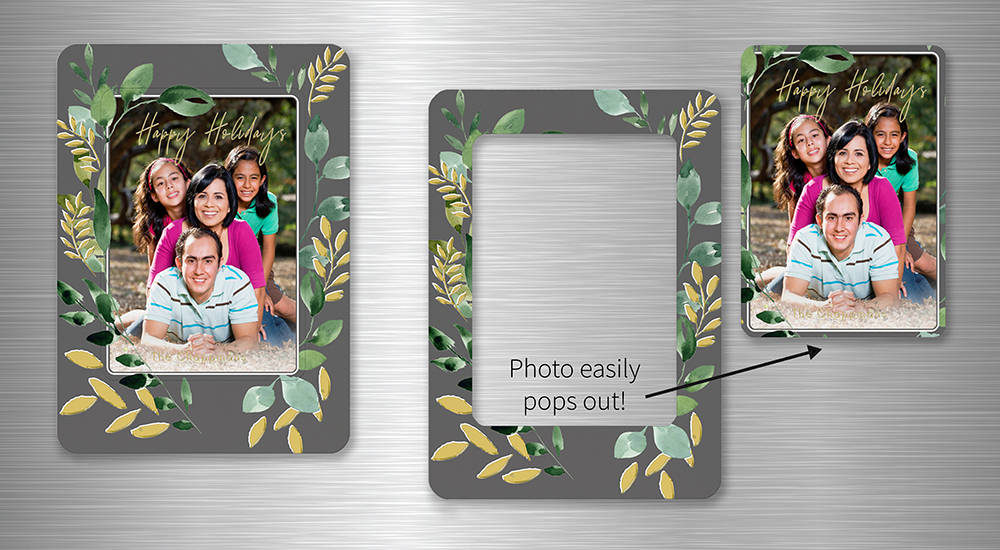 New this year are photo magnet holiday cards featuring a photo that pops out of a beautiful die-cut frame so you can display each piece separately. You can read all about them in this post, but you can be sure everyone on your list will remember receiving this card. In fact, both photo and frame might stay up on the fridge year-round.
Looking for a way to promote your business?

If you own a small – or not-so-small – business, you're always looking for ways to reach out to your customers. Remembering them with a beautiful card during the holiday season is a thoughtful gesture. There are awesome personalized or branded holiday cards out there – we sell them ourselves – but why not make a more personal connection by sharing a photo of the team or showing another side of yourself?
Why not send New Year's Cards?

Crushed for time this holiday season? Running a little behind and afraid your holiday cards won't make it to their destination by December 25? With a send date of December 1 thru January 7, New Year's cards are the most forgiving of all holiday cards. And they're a great option if you want to send a seasonal greeting to friends who don't celebrate the holidays.
Whatever your style, whatever your need, Carlson Craft has the perfect photo holiday card for you.
Featured Items: Joy Plus Love, Bright Season – Holiday Card, Merry Simplicity, Festive Greenery Magnet, Season for Thanks, Very Grateful, Grateful, Showing Appreciation – Vertical, New Year Happiness – Holiday Card, New Year Hello, New Year Wishes – Photo Holiday Card