With all the coffee we drink around here, coffee filters + us = besties. (Proof: as we post, our manager Can't. Stop. Talking. after drinking her first espresso in months.)
Then we saw the coffee filter roses on blogger Just Bella's beautiful, gorgeous, wonderful, amazing blog. We loved them. We wanted them. And suddenly, we were intimidated by our old coffee filter friends. Could we make them into roses ourselves? Would we still love them tomorrow?
We decided to give it a try. We were good crafters and read all the instructions first, and had all our supplies ready (seriously – just coffee filters, wooden skewers, floral tape, scissors and a little food coloring).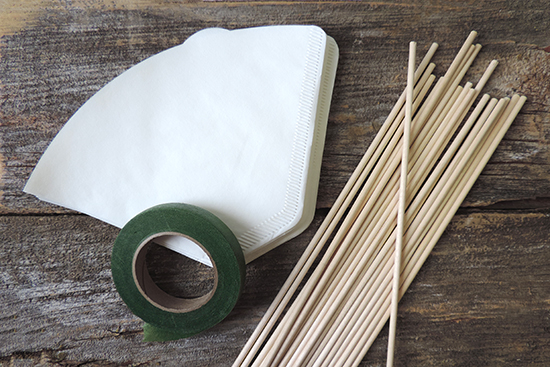 We dipped the coffee filters in diluted food coloring to get the perfect shade of pink, and let them dry. Then we started in.
Success, people. So much fun. Now we want to make more out of unbleached filters for a rustic look. And we might paint the edges to make them more rose-like.
Cost? For a few dollars, you can get hundreds of filters, lots of skewers and a roll of floral tape.
Time? After a few tries, it took us about 15 minutes per rose to make.
Thanks for the inspiration, Just Bella.
Now it's time for a new pot of coffee. If there are any un-rosed filters around here…
#creativecrushedit