Are you looking for affordable wedding invitations that combine style and convenience? Read on!
More than just beautiful invitations, All 'n One Invitation Folders are a stylish solution that will streamline your wedding correspondence. These innovative wedding invitation sets are like beautifully crafted booklets containing every essential piece of information that guests will need. They have a more classic look than our sleek two-piece Value Invitation Sets, (which we introduced in last week's blog), making them perfect for couples who want to combine modern convenience with the look of a traditional invitation.
All 'n One Invitation Folders feature designs in styles ranging from rustic to elegant and contemporary to traditional. There's even a photo invitation! And their beauty is more than skin deep. A standout feature of these folding wedding invitations is their convenience – no fussing with multiple enclosures or stamping and addressing response envelopes.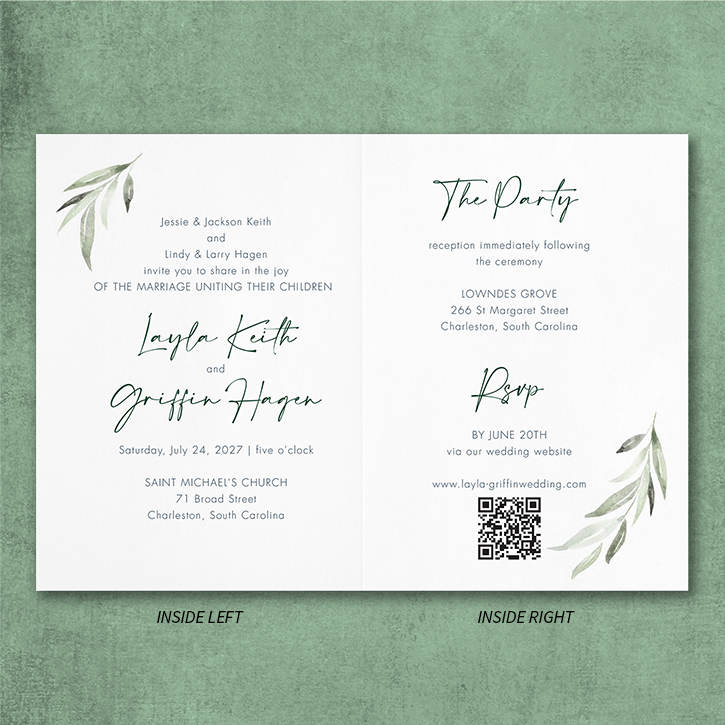 Wedding details are neatly organized throughout. The couple's names and wedding date appear within the design on the invitation's front, which opens to reveal wedding details spread out over two pages. Layout options keep things flexible, allowing you to choose how to arrange your reception, response and accommodation details.
You'll even find ample room to add a personal message or provide additional information to guests. And in keeping with the digital age, several designs include layout options with space to upload a QR code, a modern approach that saves paper and postage and makes it incredibly easy for tech-savvy guests to respond.
With All 'n One Invitation Folders, you won't have to worry about space constraints. There's plenty of room to include everything from the main invitation text to information about the reception, accommodations, response and more without compromising style or readability.
And did we mention how beautiful they are?
Featured Items: Adorned Corners All 'n One Invitation Folder